Top 5 Glorious & Short Morning Prayers For Kids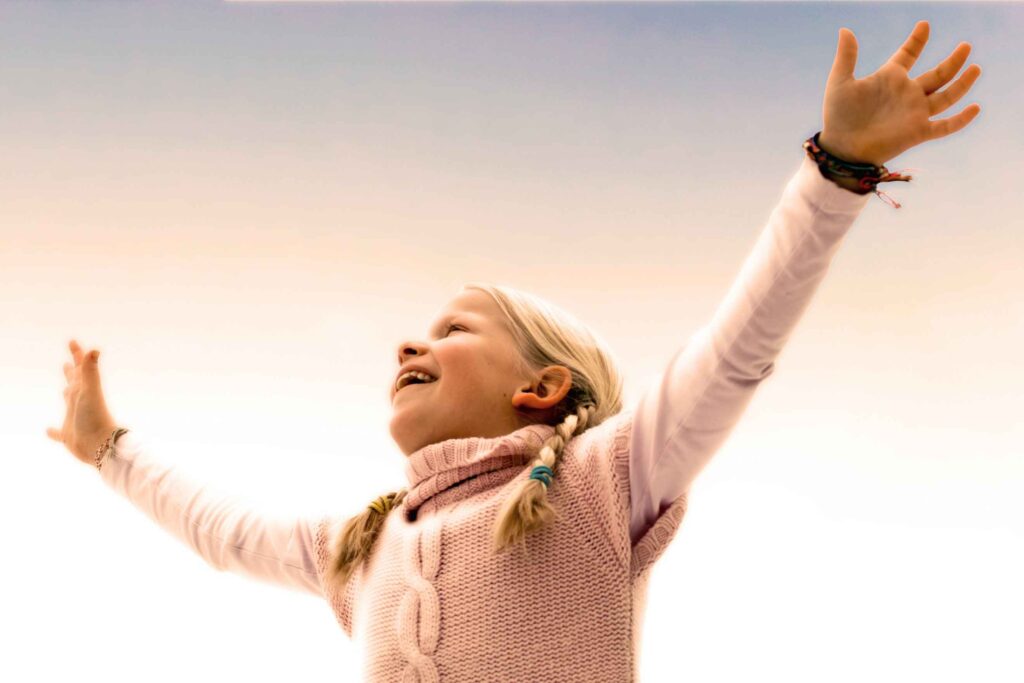 There are many resources with prayer examples for kids. But which ones are the best? In this post we will share five of our favorite short morning prayers for kids to pray along with some books with prayers kids can pray as they give thanks to God on each brand new day.
This post may contain affiliate links. You can read my full affiliate disclosure here.
Short Powerful Morning Prayer On Waking Up
There are many benefits of prayer for kids. Prayer can help kids develop a relationship with God, it can help them learn how to express themselves, and to understand the importance of communication. Prayer can also teach kids how to be grateful, to be humble, and to have faith.
Starting the morning with prayer is a great way to remind kids that the blessings of a new day come from God. So, what is a short powerful morning prayer kids can use? As you teach your kids this prayer say something like "Kids, bless your day with this powerful morning prayer" and then go ahead and have them learn this short prayer.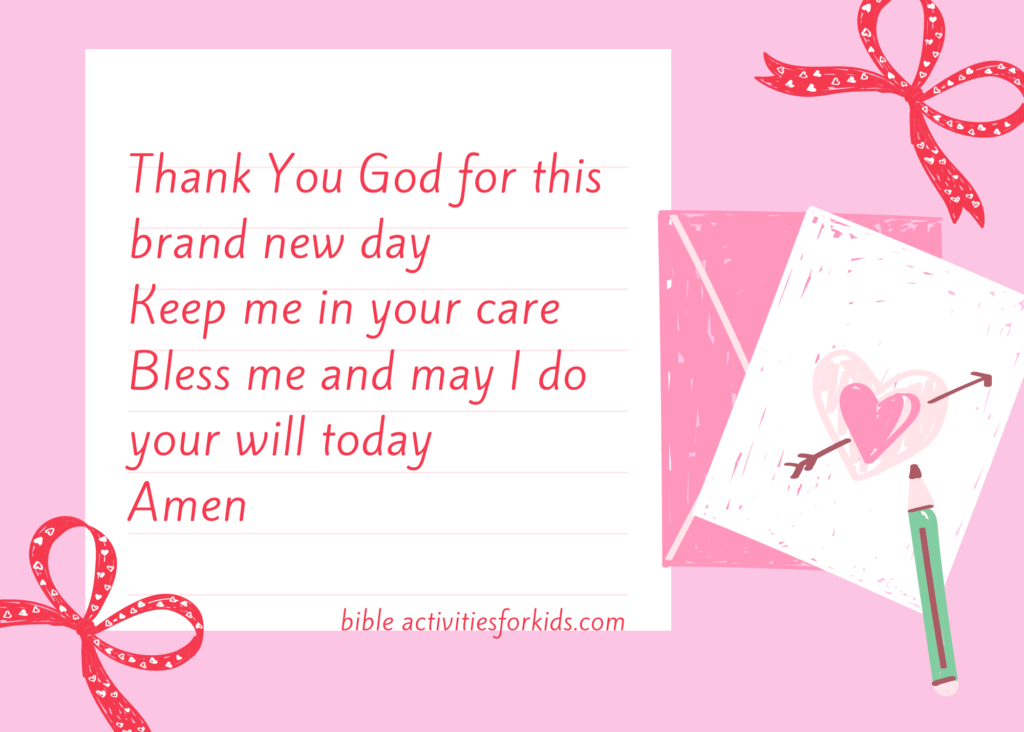 Short Prayers For Blessings At Breakfast
What is a simple prayer for morning breakfast time? Well, growing up there were some common prayers that we learnt. These were prayers of blessings especially as we were going to eat. I do not know the authors of these prayers so I am unable to give credit to them but below are some of those simple prayers we said
1. "God is good, God is great. Let us thank Him for our food."
2. "Thank you for the world so sweet. Thank you for the food we eat."
3. "Bless this food to our use, Amen."
4. "Lord, bless this food we pray, That it nourish and sustain us day by day."
Do you remember any short morning prayers at breakfast time that you said in your family? Why not teach your kids some of those prayers?
Morning Prayer For Protection
Prayer is a central part of the Christian life. We use prayer to connect with God and to ask him for help and guidance. As kids go out to school or play we want to ask God to protect them each day. A short morning prayer for protection kids can pray is found in Psalm 16: 1.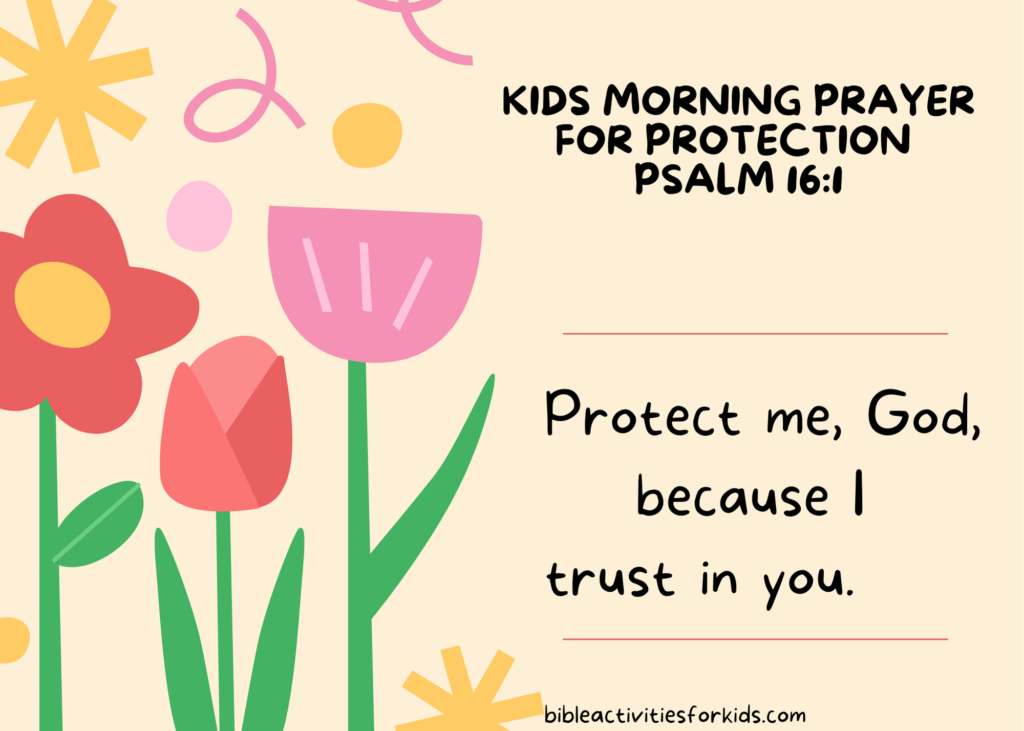 Short Morning Prayer For Family
Even though we want the kids to learn to pray, as parents we too can pray for the family in the morning. We have a full list of prayer for family ideas in our prayers for family post. In the morning when everyone is hurrying to go out, a short morning prayer for family could be something like
Thank you God for this brand new day
Bless and keep us all through today
May everything we do honor you
Amen
What Is The Best Prayer In The Morning?
Let's be honest, every prayer from the heart is a perfect prayer. No prayer is greater than the other as God hears all prayers. So, as a short morning prayer, you can have the kids say whatever is on their heart. If they are old enough, they can formulate their own prayers and share with God their own feelings but if they are still very young, here are some ideas for choosing those prayers for them.
– Choose prayers that are age-appropriate. If your children are young, look for prayers that are simple and easy to understand. As they get older, you can start to introduce more complex prayers.
– Choose prayers that are significant to your family. There are many beautiful prayers out there, but if they are not significant for your family, they may not be as effective.
– Think about your kids' personalities. Some children prefer to pray alone, while others may prefer to pray in a group
Some resources you can use to help you generate prayer ideas are books. Here are some great kids books about prayer.
Precious Moments: Little Book of Prayers is a colorful 34 page board book that teaches little kids, ages 2 to 4 years of age, prayers for thankfulness, praise, school, mealtime and bedtime.
Good Morning, Little One: New Mercies and Prayers to Carry You Through the Day is a book written by Amy Kavelaris. It is a 32 page hardcover book for children 4 to 8 years old. This picture book
reassures children that God will take care of them on good days, hard days, and anxious days
shares biblical promises about God's love, purpose, and protection
features great imagery of nature and animals
help kids discover God each day and joyfully live out who He created them to be
gives kids the confidence to be brave in scary and unexpected situations
There's no better way to start the day than praying over your children with this scripture-based book about trusting God to carry each one in His gentle arms.
First Book Of Prayers by Roger Priddy is a 16 page board book for babies up to kids 3 years of age. It contains simple prayers, from gratitude for the beauty of God's creations to asking for help and being a good friend. Each prayer is accompanied by a collection of vocabulary words and images just right for sharing God's message with kids. A sample prayer from the book is
Dear God,
Thank you for teaching me kindness.
I will always try to be kind to others.
Amen
Prayers for Children (Little Golden Book) is a 24 page classic for children ages 3-7 years that have beautiful prayers. A portion of a short morning prayer in the book says "Now before I run to play, let me not forget to pray". It has several prayers including prayers for meals, the Lord's prayer and even has a prayer called the children's prayer. This is a good source for parents seeking prayer ideas for kids.
100 Short Prayers?
If you are looking for a prayer for children to pray, there are many options. It would have been great if I had a list of 100 short prayers but I don't. In addition to the short morning prayers above, here are a few more examples of short morning prayers for kids:
-Dear God, please help me to be a good.
-Dear God, please help me to be kind to others.
-Dear God, please give me power to be brave.
-Dear God please help me to be obedient.
-Dear God, please protect me.
-Dear God, please be with my mom and dad and sister.
-Dear God, please help me shine for you.
-Dear God, please help me make good choices.
-Dear God, please lead me everyday.
-Dear God, please help me follow you always.
Some parents have asked " What is the best short prayer for kids?" I hope this post gave you some ideas for short morning prayers for kids. In summary, our top 5 short morning prayers for kids to pray is a prayer on waking up, a prayer for blessing at breakfast, a prayer for protection, a prayer with or for the family and whatever prayer is on their heart.
Remember, every prayer is good because it helps kids connect to God and that is the goal of the gospel-to bring us back to God. As usual, don't forget to share with us your comments below.