101 And Counting Great Bedtime Stories For Kids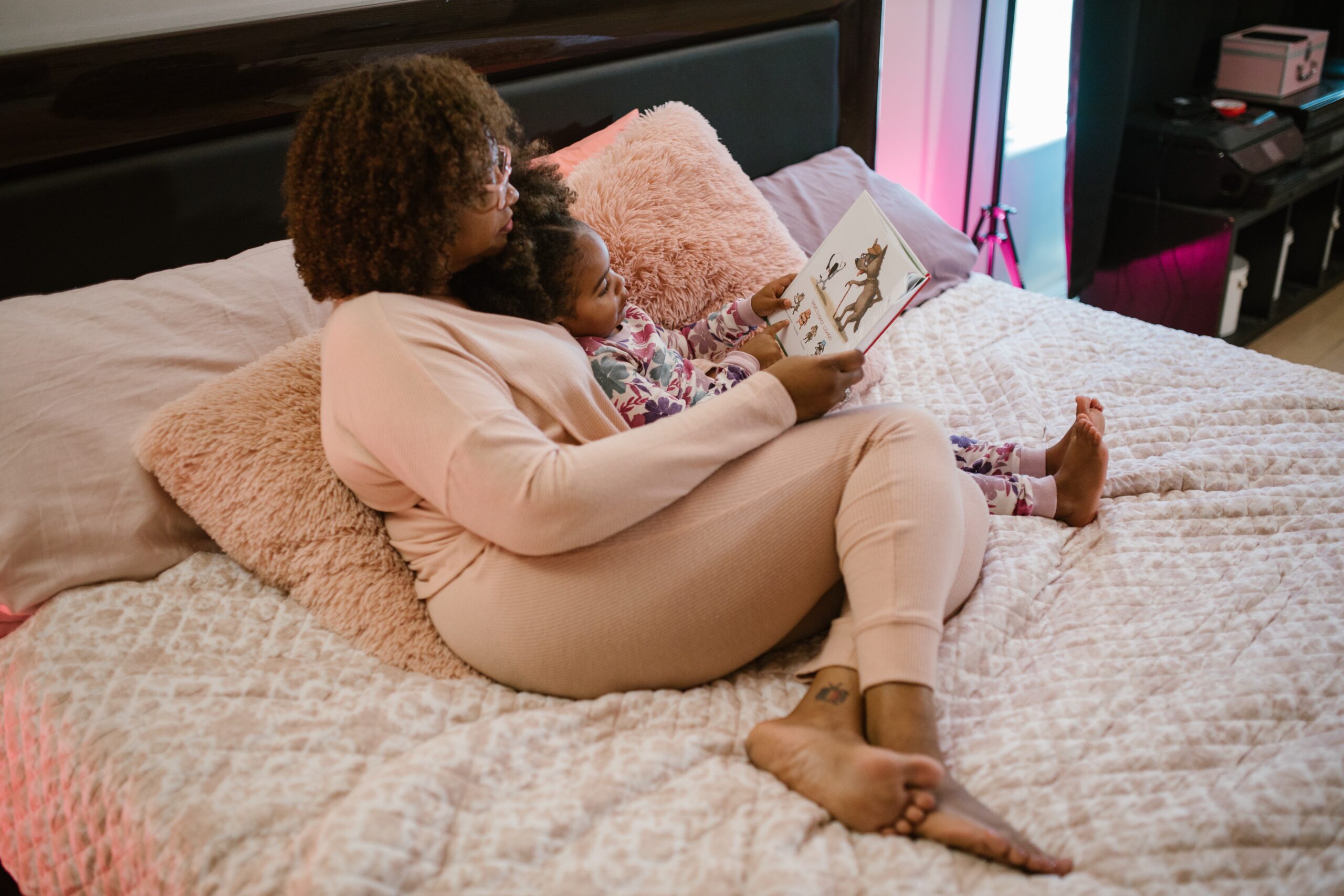 Bedtime stories for kids is a great way to get kids to wind down and be ready to sleep off into dream land. In today's fast-paced and technology-driven world, finding ways to encourage strong Christian values and beliefs in our children can be a challenge. However, bedtime stories is one powerful tool that can be used to reach this purpose. Bedtime stories have long been used as a way to calm and soothe children before sleep, but they can also be a valuable opportunity to teach important lessons and inspire a deep faith. In this post we will share some bedtime stories for kids with a bible based theme. Hope you enjoy this post and find a bedtime story that your kiddos will love.
This post may contain affiliate links. You can read my full affiliate disclosure here.
What Is The Number One Bedtime Story?
For a bedtime story to be number one. It should be short. Short enough to quickly bring across the message so that mom or dad isn't reading for what seems like an eternity or to have the child trying to stay awake to find out what happens at the end of the story.
A number one bedtime story should also be interesting enough to keep the kids engaged but not overly stimulating that they don't fall asleep. However, to enhance the impact of Christian bedtime stories, you could consider incorporating visuals or activities that further engage the child. There can be daytime activities based on the night time bedtime story. You can use illustrations or crafts related to the story to make the experience more interactive and interesting. This can help create a lasting impression and reinforce the lessons learned from the story.
How To Choose Bedtime Stories For Kids
When selecting bedtime stories for your children, it's important to choose age-appropriate stories that are relatable and align with your family's values. Look for stories that are easy to understand and have child friendly illustrations. This will help hold your child's attention and make the experience great for both of you.
What Is The Bedtime Story For Age 7 Kids?
Persons have asked what is the bedtime story for age 7? Some people say that once the child reaches age 7, the foundation would have been laid for how the child will behave in future years. At age 7 children start to have more independence from their parents and build as well as pay more attention to friendships. As kids this age build friendships stories about friendships and working together are therefore great types of bedtime stories to use for 7 year old kids.
A story about friendship from Mrs Karen at Christian Bedtime Stories website is Wilber from Wallanu. It is a story about loving our friends and has as the focus bible verse 1 Corinthians 13: 4-13 which tells us that the greatest is love. This website also has other bedtime stories about sharing, lying and stealing and fear.
The Benefits of Kids Bedtime Stories
Bedtime stories for kids have some great benefits. Christian bedtime stories for kids are a great way to teach biblical values to children before they go to bed. These stories not only entertain and captivate young hearts and minds, but they also teach important lessons and morals from the Bible.
Christian bedtime stories can also foster a sense of comfort and security for kids. As they listen to stories of God's love and guidance, they are reminded that they are never alone and that their faith can provide peace in difficult times. These stories allow children to internalize and embrace the idea of God's presence and protection, which can be incredibly reassuring and comforting. Reading bedtime stories also helps to
Develop language skills
Spark meaningful conversations between parents or guardians and children
Build the imagination
Strengthen the parent or guardian to child bond
Calm the child down and reduce stress levels in preparation for sleep
Make your child love reading
What Are Good Bedtime Stories?
Some good bedtime stories for kids can come from the bible. The bible has many stories that can be used by Christian parents to share important values that they want to teach their children. Some short, engaging yet calm bible stories that you can tell your kids a bedtime include
The story of Creation
Adam and Eve and the fall
Noah and the Ark
The Tower of Babel
Joshua and the battle of Jericho
The Birth of Jesus
The little boy who shared his lunch and helped feed 5000 people
Moses parts the Red Sea
Samuel hears God in the night
Jesus tells the children to come to him
You can also check out our post on bible stories about giving thanks for some stories about being thankful that you could use at bedtime.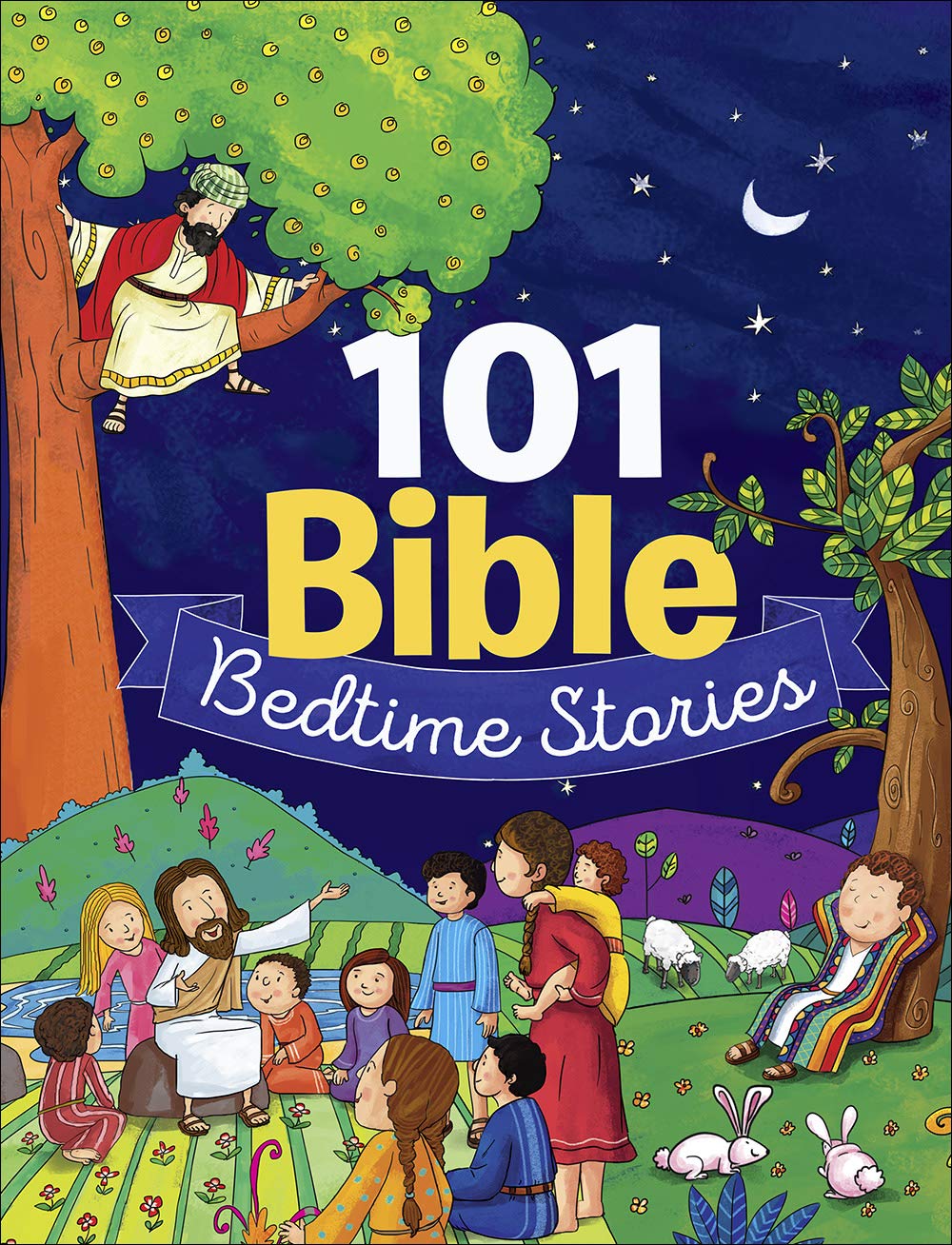 If you don't want to read the bible story directly from your adult bible, you could use the book 101 Bible Bedtime Stories. It has colorful pictures and story lengths that take only a few minutes to read. It has 208 pages and follows the pattern of the bible stories from Genesis to Revelation. It is best suited for kids aged 3 to 7 years old. This book is written by Janice Emmerson who is the bestselling author of The Complete Illustrated Children's Bible, The Jesus Bible for Kids, and The Illustrated Bible for Little Ones.
Where Can I Find Bedtime Stories?
There are many resources available for finding Christian bedtime stories for kids. These stories often feature loved biblical characters, parables, and lessons that children enjoy. You can visit your local Christian bookstore or browse online for a wide selection for various age groups, from toddlers to pre-teens of paper copy as well as digital books. Additionally, there are websites and apps that offer audio versions of these stories and also video versions of stories, which can be a fabulous option for busy parents or for children who prefer listening to stories rather than reading them.
Bedtime Stories For Kids YouTube
Kids faith Tv has a compilation of bible stories for kids which can be used as bedtime stories for kids
Bedtime Stories To Read Online Free
There are some websites that offer bedtime stories for kids for free. Since we are a Christian website, we would love to share with you Christian websites however some of the free websites do have secular content so we will share with you some stories that we have found to have bible themed lessons, however you as a parent if you choose to visit the website should read the stories first before sharing them with your child.
The bible talks about the body of Christ as all functioning together so the body works as a whole. It is found in Romans 12:4-8. So sometimes we as individuals are all different but we all fit together. You can read this story as a bedtime story and remind your kid that when they meet friends they may all have different ways of doing things but they can all work together. You can find the story We all fit together by Andrea Kaczmarek on StoryBerries.
Bedtime Stories For Kids Audio
Audible has some bedtime stories for kids. This collection include the story of creation, Noah's ark, and Jonah and the whale. The narrator uses a calm tone, with background music, making them suitable for apart of a bedtime routine. These stories are suited for Christian children aged 3 to 8 years old.
Short Bedtime Stories For Kids
The Ministry to Children website has some short Christian stories for children that can be used as bedtime stories for kids in pdf format from Christian writer Bonnie Lucas. Stories include Freddy's Bath time Adventure, Grandma's Teacup, Taylor's Pond and On The Spots.
Bedtime Stories To Tell
Parents and Guardians are always looking for bedtime stories and we hope that this post gave you some bedtime stories for kids ideas. As you read the stories, take the time to explain anything that may be unfamiliar to your kids. This will help your kids to better understand the meaning and teachings behind the story and can also be an opportunity to have meaningful conversations about faith and values during the daytime.
Remember, the goal is not just to read bedtime stories, but to use these stories as opportunities to share and reinforce your family's Christian beliefs. May these bedtime stories for kids bring peace, joy, and a deeper understanding of God and his word to your little ones as they drift off to sleep. By incorporating these stories into your bedtime routine, you can help build a strong foundation of faith and guide your children towards a lifelong relationship with God. Feel free to check out our own bedtime story Nate and the cake. As always let us know what your thoughts are in the comments below. Happy storytelling!