Powerful Bible Stories About Giving Thanks To Read With Your Kids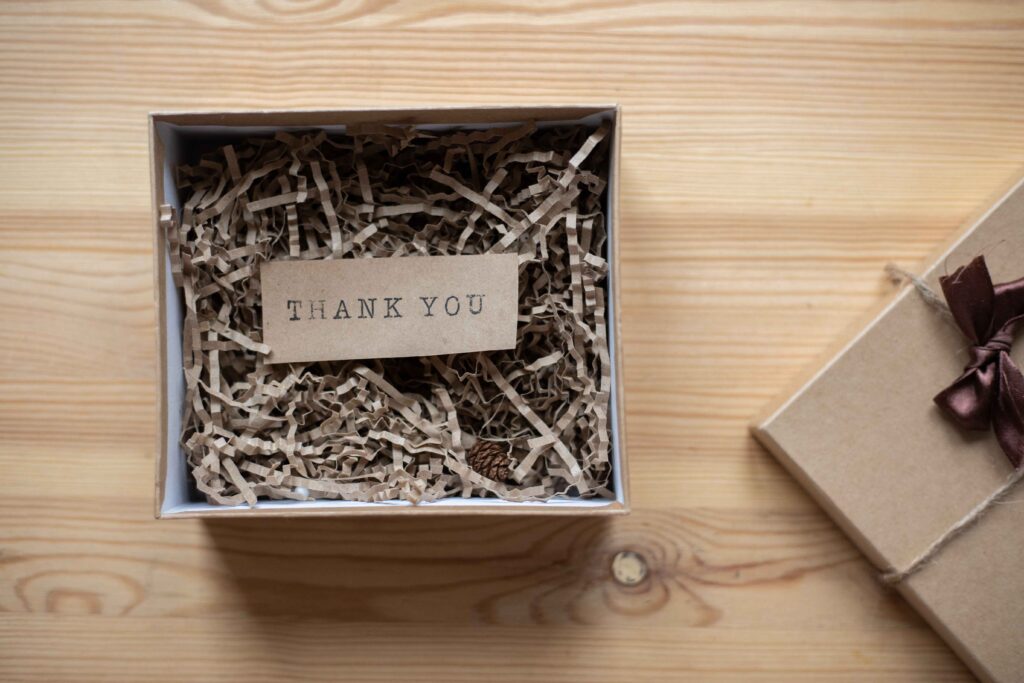 Sometimes we forget to say thank you. There are scripture verses and bible stories about giving thanks all throughout God's word, some what of a reminder to always be thankful. Psalm 107:15 is a bible verse about giving thanks to God. It says "Oh that men would praise the Lord for his goodness, and for his wonderful works to the children of men." Today, we will share some great kid friendly bible stories about giving thanks that you can read as a family.
This post may contain affiliate links. You can read my full affiliate disclosure here.
Jesus' Teaching On Thankfulness
Do you remember what COVID isolations looked like? You had to be by yourself, away from family or friends. You felt isolated and just wanted the nightmare to be over. I can imagine that it must have felt a lot worse for people during the biblical times when they had leprosy. Leprosy was a condition which caused the person to have to live away from the community. The leper had to call out "unclean" should the leper be coming close to where other people were. What an isolation!
In Luke 17:11-19, we find the story of ten lepers.
"And it came to pass, as he went to Jerusalem, that he passed through the midst of Samaria and Galilee.
And as he entered into a certain village, there met him ten men that were lepers, which stood afar off:
And they lifted up their voices, and said, Jesus, Master, have mercy on us.
And when he saw them, he said unto them, Go shew yourselves unto the priests. And it came to pass, that, as they went, they were cleansed.
And one of them, when he saw that he was healed, turned back, and with a loud voice glorified God,
And fell down on his face at his feet, giving him thanks: and he was a Samaritan.
And Jesus answering said, Were there not ten cleansed? but where are the nine? "
With bible stories about giving thanks such as this one, we clearly see Jesus' teaching on thankfulness when he asks for the other nine lepers who had not returned to give thanks. Here Jesus shows us that it is expected that people should give thanks when someone does something to help. This story of thankfulness tells us that gratitude is a trait that Jesus wants his people to possess. This is one of the bible stories about giving thanks that families should read together.
Stories Of Gratitude To God
Do you know a family that really wants to have a child? Maybe your child really wants a brother or sister. In the bible we find the story of a woman named Hannah. She was mistreated because she had no children. Her story is found in 1 Samuel 1-2. She prayed at the temple to God. Her prayer was so emotional that the priest Eli thought she was drunk when she was not. She promised God that if she had a child she would give the child back to God in service.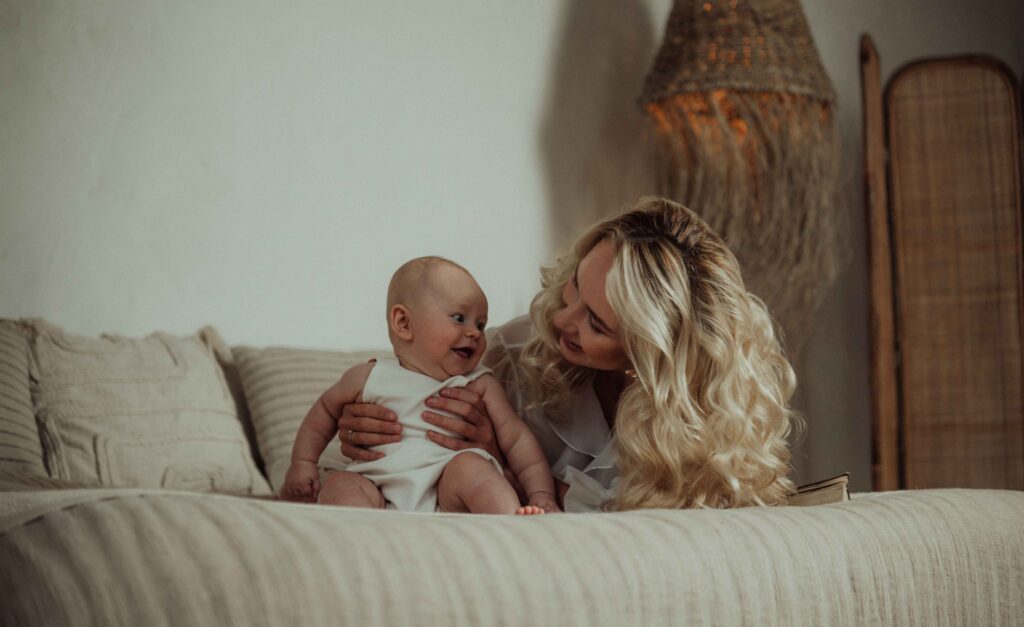 Hannah's story has a happy ending. God gave her a son whom she named Samuel. This is a story of gratitude to God as when Hannah brought her son to the temple to serve God with Eli she said a prayer of thanksgiving. "My heart rejoiceth in the Lord," she said. This is one of the bible stories about giving thanks to God. Hannah remembered to be thankful to God for his blessing. Such bible stories about giving thanks remind us to say thank you for all the things we are blessed with as they all come from God. Thank you God!
Bible Characters Who Praised God In Hard Times
When we do the will of God, our expectation is that we will be blessed. In Acts 16: 16-24, we see Paul and Silas doing the work of God but they were labelled as "troublemakers" and put in prison. What would you do if you were put in prison?
Bible stories about giving thanks can come from unlikely places. In this case, it came from prison. In Acts 16: 25, we see Paul and Silas singing praises to God. What? Yes, you read that right. These bible characters praised God in hard times. They praised God in prison. Who does that? When hard times happen we often ask God why, but not Paul and Silas. These men saw this time as an opportunity to praise God. They gave thanks to God in spite of their situation.
We pray that we can be like these bible characters who praised God in hard times. This is truly one of the great bible stories about giving thanks that families can enjoy reading and praying about. Would you like us to pray together about this now? You can download our bible characters who praised God in hard times prayer card and pray with us or use it to pray as a family after reading bible stories about giving thanks such as this one with Paul and Silas.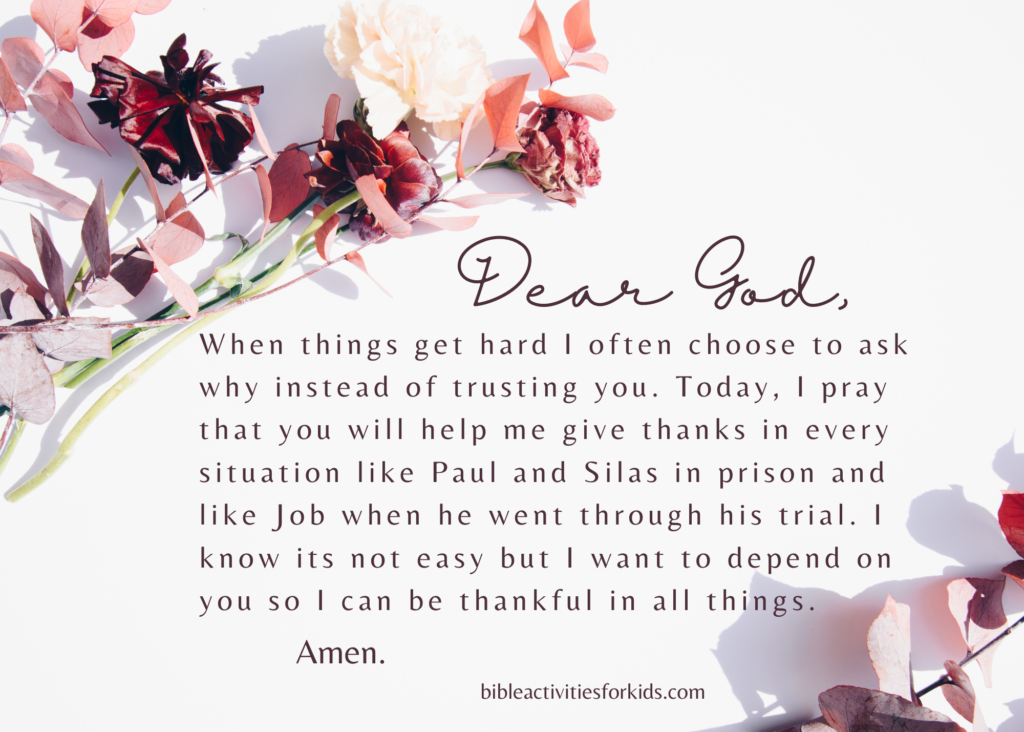 Short Stories On Thankfulness
Mercer Mayer has a book entitled "Being Thankful". This book is for ages 3 to 6 years and features Little Critter as he learns the importance of being thankful for what he has. The book has pictures characteristic of the Little Critter series.
In this story Little Critter does not get what he wants while everyone else get what they want. He therefore feels sad and sounds very ungrateful. When he visits his grandma she shows Little Critter why thankfulness is so important and helps make any situation seem so much happier.
This is one of the stories of thankfulness based on Psalm 107:1, that teaches children:
What gratitude is and why we should be thankful for all of God's blessings
How our actions and manners affect others
How to share thankfulness with others
Though this is not one of the bible stories about giving thanks, it is a biblically based kids story teaching thankfulness.
Another book with a story about being thankful is The Blessings Jar. This is a twenty-two page board book written by Colleen Coble for kids ages 2 to 5 years. In this picture story book the main character Punky Grace has a bad day and feels grumpy. Her grandma suggests they have an adventure and fill her Blessings Jar to the top. By doing this, Punky discovers that God's blessings are enough to outweigh any bad day. This book teaches that being thankful is one way to fix what seems to be bad circumstances in our lives.
After reading this book some families have created their own blessings jar as a reminder of all the blessings God gives in everyday life. Throughout the bible, God also told his children to do things to remember him such as keeping the Sabbath and having a communion service. It is always good to be thankful and remember that God's blessings are all around.
Bible Stories About Being Thankful For Kids
There are many bible stories about giving thanks. Bible stories such as the ten lepers reminds us that we should be thankful. Paul and Silas in prison is a bible story about giving thanks in hard times that shows us how thanksgiving can change our circumstances. These are only a few of the bible stories on thanksgiving.
As you discuss with your child, "What does the bible say about giving thanks," share these stories so they will learn what are some bible stories about gratitude that they can learn lessons from to use in their daily lives.
Well that concludes our post on bible stories about giving thanks. Let us know if you enjoyed reading these bible stories about giving thanks in the comments below. Happy reading!