Bibleopoly: The #1 Exciting Christian Board Game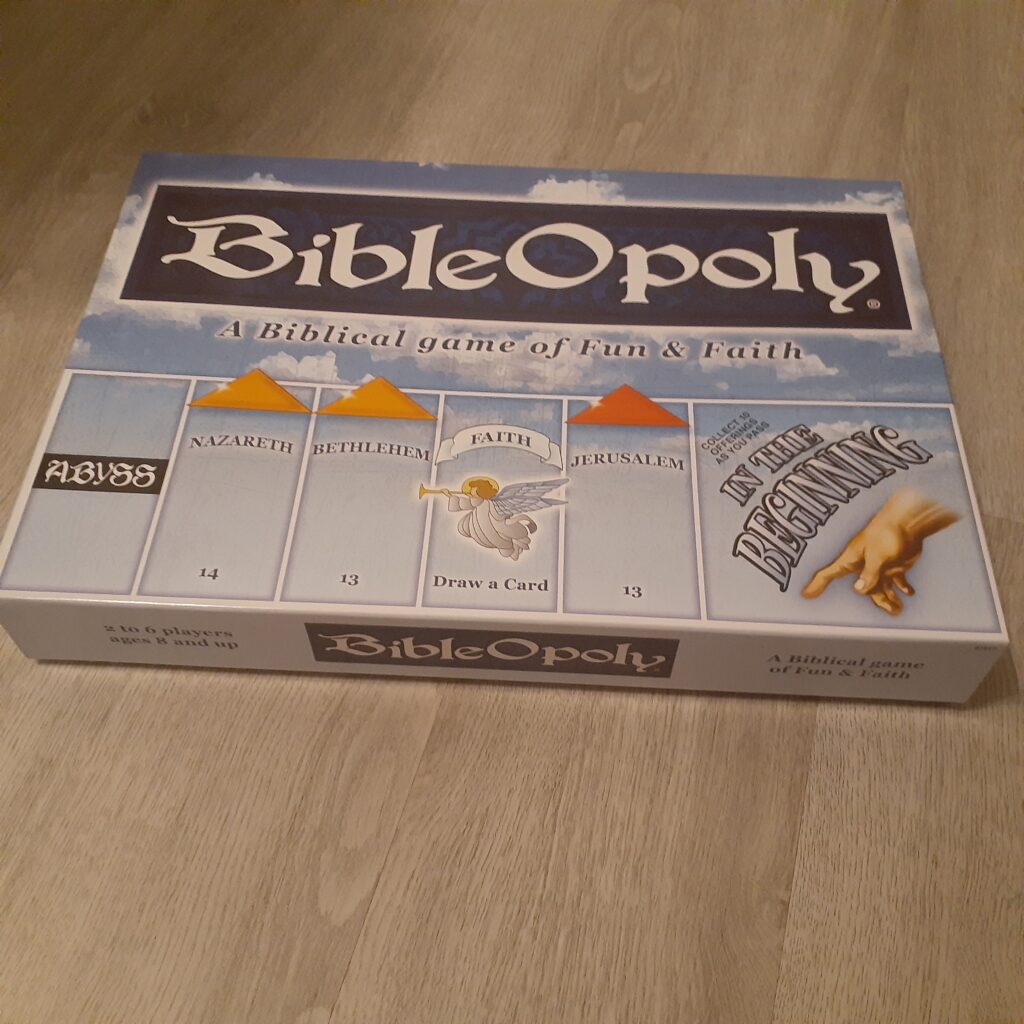 It is Saturday night and the kids are bored? How about a game of Bibleopoly? It is an activity that is fun and you also learn about God. What will you do? Will you play the Bibleopoly game? I know, I know. You are going to play. You are going to play this Christian board game. It is one of our favourites! It is one way of having fun while keeping Christian beliefs at the forefront. With bible board games one gains the general benefits of playing board games while maintaining Christian principles. In this post we will introduce you to one of our family favorite bible board games to play. Here is our honest Bibleopoly review!
This post may contain affiliate links. You can read my full affiliate disclosure here.
Benefits of Christian Board Games
Playing Christian board games is a great way to bond with family and friends. Family social interaction is important as it impacts the cognitive, social and emotional development of children. It strengthens both the parent-child relationship and the family unit as well. While interacting through Christian board games children learn important social skills such as cooperating and turn taking.
Christian board games can help with the development of literacy and mathematical skills and utilizes the frontal lobe which is that part of the brain which functions for problem solving, decision making and planning. Sometimes when we play board games we can forget we are Christians. The bible says that whatever we do should honor God. Playing a Christian board game can help us have fun while still holding on to our Christian values. The bible monopoly game is such as game to give us these great benefits.
Bibleopoly Versus Monopoly
Have you ever played the popular board game Monopoly? Some persons have asked " is there a bible Monopoly? The answer is yes. If you are looking for the biblical version of the board game Monopoly then here you have it. It's called Bibleopoly.
Bibleopoly is a Christian board game filled with fun and messages of faith for 2 to 6 players ages 8 years and over. This is a board game made by Late For The Sky Production Company in Cincinnati.
Wondering how to play Bibleopoly? It is similar to Monopoly hence why some people call it the bible monopoly board game. Though having similarities to Monopoly, this bible board game has differences. Bibleopoly like Monopoly has some elements of property trading however Bibleopoly properties have a bible theme thus property has names of bible cities like Corinth, Tyre and Bethlehem and are the Bibleopoly deeds.
Unlike Monopoly where one tries to bankrupt other players, in Bibleopoly one helps others with the objective of the game being to build a church. Wondering how to build a church in Bibleopoly? Well, a church consists of one cornerstone, three bricks and a steeple which is the player's token. To start building a church the player has to own three cities of the same color group.
The player acquires a cornerstone by either completing a color group for another player or by doing community service. Bricks can be acquired after getting a cornerstone by giving thirty offerings for each brick. The player can acquire only one brick at a time after completing a turn in which the player lands on or passes "in the beginning."
The church is complete when all the cornerstones and bricks are acquired and the player gives forty five offerings and uses their token which is the steeple to put on top of the cornerstones and bricks. The first player who completes the church with their steeple is the winner.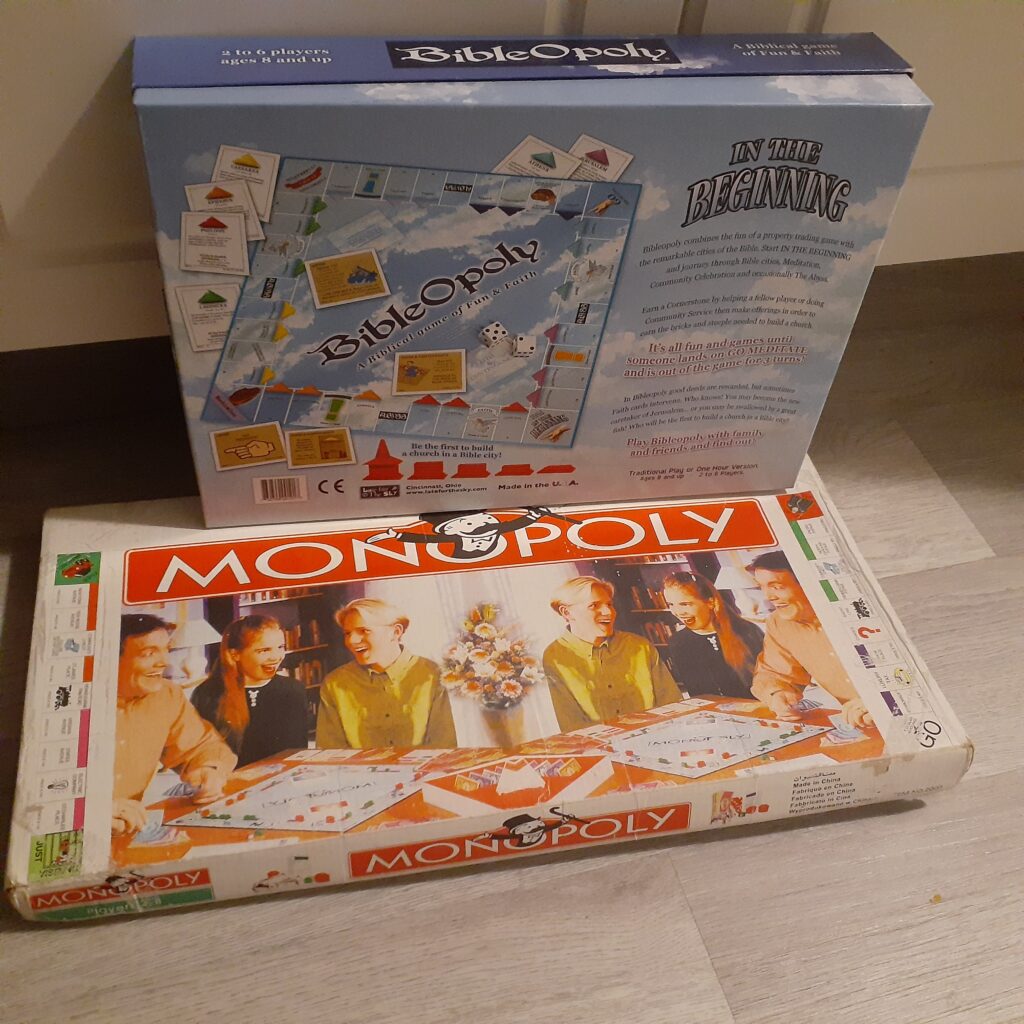 Like all games, Monopoly has rules and this christian board game also has rules. Bibleopoly rules include a key one which states that no trading of deeds between players is allowed at any time.
Bibleopoly has Faith cards and Abyss cards in comparison to Community Chest and Chance cards in Monopoly. Players can get Faith cards like "Recite John 3:16 or lose one turn" or Gal 6:7 "for whatever a man sows this he will also reap advance the token of your choice to the space of your choice" or Abyss cards like "You are swallowed by a great fish lose 3 turns" or "wavering faith sends you back 7 spaces."
In the Bibleopoly Christian board game, money is called offerings. In comparison to the board game Monopoly where players accumulate wealth, in the board game Bibleopoly players progress by doing good deeds for example one Faith card reads "receive 3 offerings from each player for your kindness and generosity."
In the Christian board game Bibleopoly, all players stay in the game until a winner is named unlike Monopoly where you can lose players along the way if they get bankrupt. Remember going to jail in the board game Monopoly? Well its "Go Meditate" in Bibleopoly and you don't really want this option as you will be out of the game for 3 turns. In both games, the players have lots of fun while gaining all the benefits of board gaming.
Bibleopoly Key Features
Here is a summary of the features of the Christian Board Game-Bibleopoly
This is a Christian board game version of the popular game Monopoly
Bibleopoly pieces include six steeples, six cornerstones, eighteen bricks, faith/contingency cards, abyss cards, deeds, offering and dice
It has a Bibleopoly quick start card or sheet
This bible board game is for 2-6 Players ages 8 and older
Players can choose traditional play or the one hour version of this game
This bible board game has spaces on the board named after places and events in the bible
This Christian board game makes good deeds the key and not wealth accumulation
The aim of this fun bible board game is to be the first player to build a church in one of the bible cities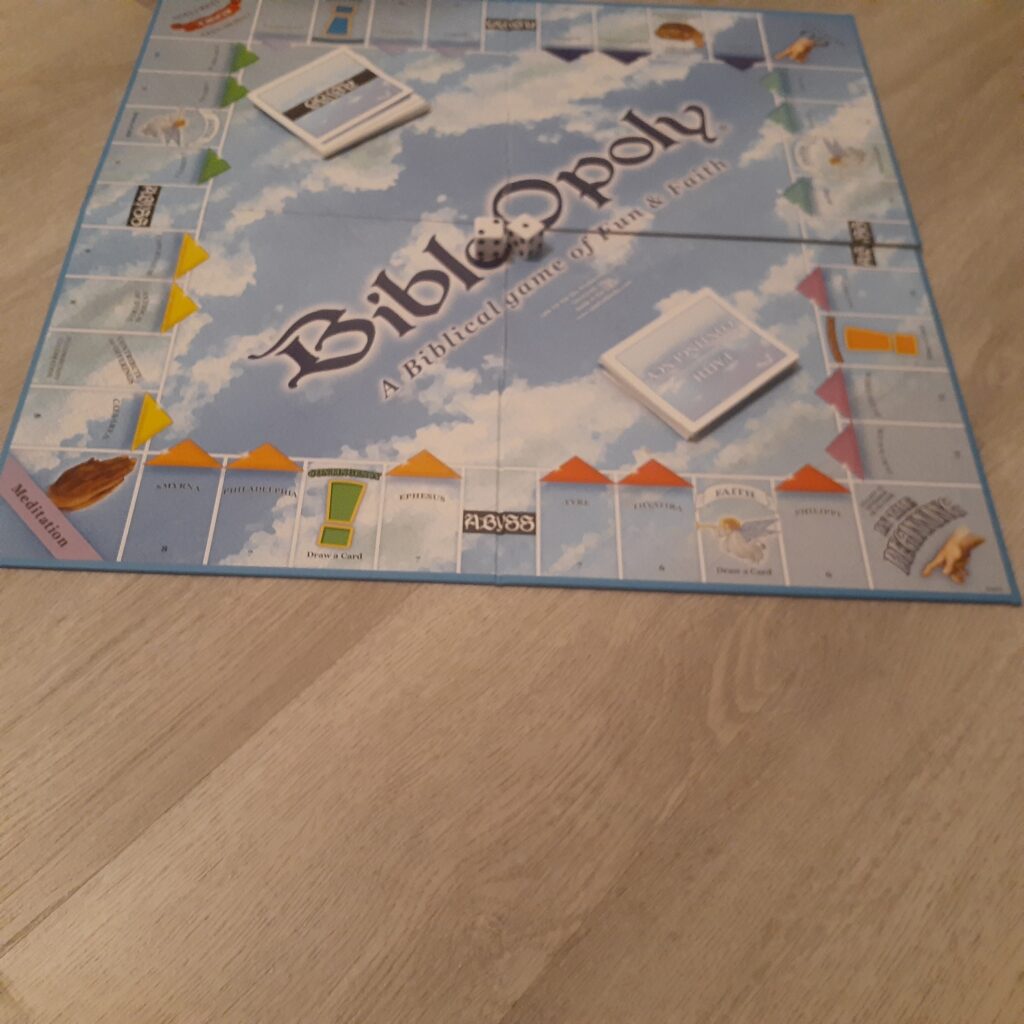 Bibleopoly Review – What We Think
After playing the bible board game Bibleopoly this is what we think
It has a beautifully designed package
The Christian board game Bibleopoly has instructions that are not the easiest compared to other games but its similarity to Monopoly gives it a feel of familiarity
This bible board game increases knowledge of bible cities and bible themes such as generosity
Even though it says for ages 8 and older, younger children can play with some adult guidance and encouragement
It is great family fun with a faith building element
The beauty of this Christian board game is that you don't need a lot of biblical knowledge to play so even non-Christians could enjoy this game as well
The last time we checked, Bibleopoly had a higher cost than Monopoly, that may be inhibitory for some people
If you choose to play Bibleopoly or if you have ever played this Christian board game before, let us know what you thought of it in the comments section below.