5 Of The Best Devotional Books For Kids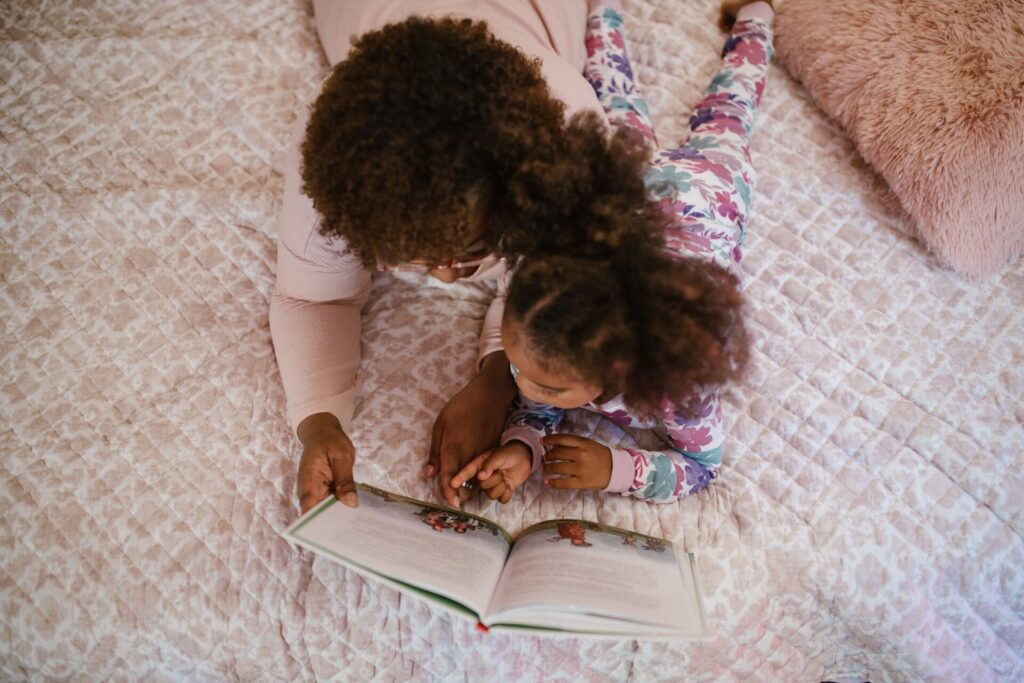 I grew up in a Christian family and having daily devotions with devotional books was apart of our routine. I can say now that it was one of the best things my parents ever did. What would we suggest are the best devotional books?
In this post we will tell you about five of the best devotional books for kids to help them grow closer to God.
This post may contain affiliate links. You can read my full affiliate disclosure here.
What Is A Devotional Book For?
As parents, we want to teach our children God's word effectively. What are the benefits to using daily devotional books to achieve this purpose?
Having a daily devotional routine helps kids build a lasting, meaningful relationship with God.
Devotional books helps families plan their devotional time with minimum preparation.
Kids devotional books have Christian teachings from the word of God.
Daily devotional books presents the word of God clearly in bite sized portions for kids. These short readings are ideal as kids have short attention spans.
Devotional books for kids give suggestions for other activities that can be used to bring across the gospel message.
Kids devotionals teach valuable life skills.
Devotional books give suggestions for prayer so kids get ideas of what they can pray to God about.
Devotional books for children help them discover new things about God.
Daily reading the word of God with the aid of devotional books, helps kids find joy in the Lord.
How Do I Choose A Devotional Book For My Kids?
In choosing a devotional book, you have to think ask yourself a few questions. These include:
What is the age of my child? Devotional books should be age appropriate so kids can enjoy and understand the messages presented from god's word.
What is my aim? Do you want devotions as a bible study or are you just looking for random themes to read from God's word? Do you want readings for one month, one year or maybe it doesn't matter at all? Your aim will determine the type of book you choose. Your aim will help you select the best devotional books for your kids.
What are your kids interests? Finding a devotional book that matches your child's interest will make it more desirable for the child.
Children's Daily Devotional Book For Beginning Readers
Devotions for Beginning Readers by Crystal Bowman and Christy Lee Taylor is one of our favorite kids devotional books. This daily devotional book for kids has a bible verse for each reading from a kid friendly bible translation. Kids can learn these bible verses as they have their daily devotions. There is also a prayer at the end of each reading to have children apply the reading by praying about what they read as they learn to talk to God daily.
What is especially unique about this children's daily devotional book is that it has a word of the day. This is a word which the daily devotion focuses on thus enforcing the word in the mind of the beginning reader. These words increase the vocabulary and is geared toward kindergarten to grade two readers.
Kids devotional books such as these help to build the confidence of young readers while they learn basic Christian teachings. Each page has a unique beautifully illustrated picture to captivate the child. This is one of the best devotional books for beginners.
Daily Devotional Book For Kids Who Love Animals
Kids who love animals can learn about Jesus while they read about their favorite animals in daily devotional books. One of our favorite devotional books for kids who loves animals is God's Amazing Creation by Vicki Redden, Dee Litten Reed and Joelle Reed Yamada. This 365 day devotional book is labelled with the month and day of the year on each page.
This children's daily devotional book has a daily bible verse for kids to focus on while they read the animal stories from the bible, from the authors personal experiences with animals and nature as well as fun facts and quizzes. This is a 375 page book designed for kids aged 8 to 12 years old.
We love the God's Amazing Creation book because the kids love the devotionals and there is nothing more satisfying than having your child ask you to read to them a message based on God's word.
This is one of the daily devotional books for kids which educates about nature thus showing the greatness of God while teaching the word of God. This children's daily devotional book also has pages where the kids can write their favorite animals, what they have learned from these animals, what they want to see and do in heaven and what they thank God for.
God's Little Devotional Book For Kids
There are some kids that like change. God's Little Devotional Book for Kids by V. Gilbert Beers provides just that for kids 9-12 years of age. This 208 page devotional book has devotional readings, fun stories, simple prayers, catchy rhymes and bible verses to encourage kids to spend time with God each day.
Imagine reading a short devotional like "Don't fear God is near." Surely your child can hang on to this as a line to use when they are in fearful situations as it's short enough for the child to remember but powerful enough to teach that God will take care of his children so there is no need to be afraid. We would say it is one of the best inspirational devotional books for kids
Fun Bible Devotions For Kids
This next devotional book that I am going to tell you about is absolutely splendid. It asks questions that kids are curious about; provides bible answers and then gives an activity for the kids to do to enforce their learning.
The One year Book of Fun and Active Devotions for Kids is brilliant. It has questions asked by real kids. The questions are followed by a bible verse and an answer.
Each page comes with the month and day so, for example on February 4; the question asked is "Do angels stay in the car or fly beside?" The bible verse for thought comes from Psalm 91:1. There is a great kid friendly explanation on the topic and then the author tells the child to place a sticker on their seat belt as a reminder that angels are around to protect and comfort. The adorable pictures will also put a smile on everyone's face.
This daily devotional book is definitely a great choice for a kids devotional book. It is 384 pages and geared towards kids aged 5 to 7 years and is one of the best daily devotional books for kids.
Devotional Books Encouraging Memorizing Scripture
There are many devotional books that encourage scripture memorization. One of our favorite is, I Can Learn The Bible by Hally Hawkins Shivers.
We really like this devotional because it gives kids a whole week to learn the bible verse and it explains in detail what the bible verse means in kid friendly language. This kids devotional book covers topics such as the gospel message, sin and grace and temptation.
Our suggestion when using this devotional book is to open your bible to the translation of the scripture of the week you want your child to learn. So if you are a KJV fan; open your bible to the verse of the week and have the child learn it from that version.
Another great thing about this devotional book is that it has tips for helping your child memorize scripture. The pictures in this devotional book are colorful and will grab your child's attention. It is 224 pages in length and designed for kids 4 to 8 years old.
5 Best Devotional Books For Kids
There you have it folks; five of the best daily devotional books for kids that we have enjoyed. We hope that one of them would have pricked your interest and that you will use devotional books to help your kids learn about God.
We will be glad if you share with us the devotional books you enjoy or tell us your thoughts on the ones we selected. Can't wait to hear from you.