Exciting Easter Crafts For Kids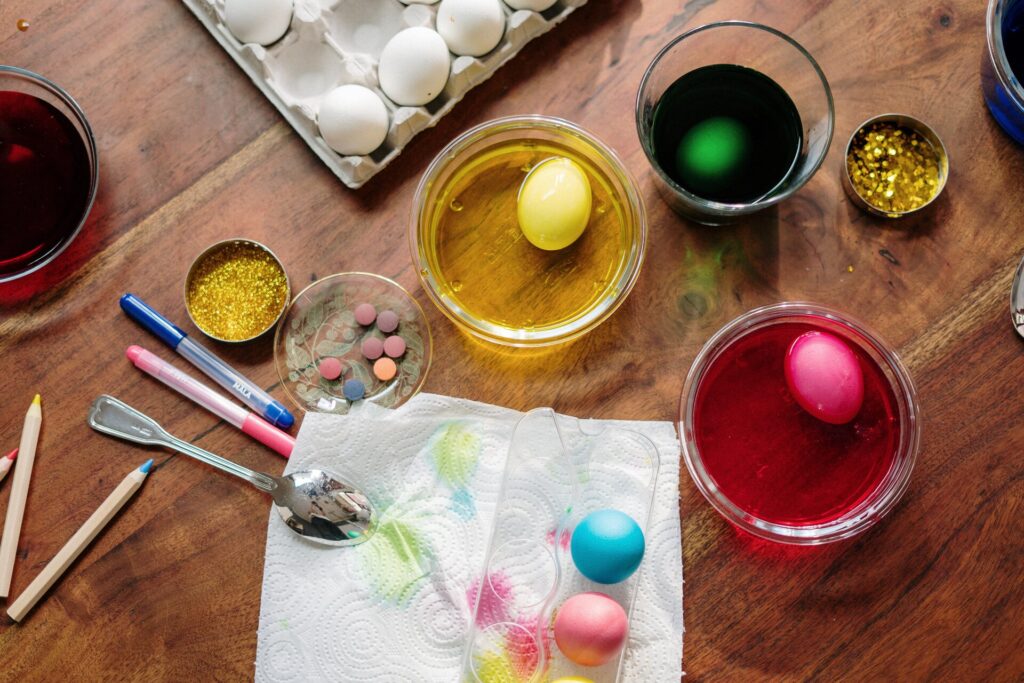 Religious Easter crafts will help kids learn the true meaning of Easter.
"Easter is when you have eggs, you get chocolate and there are bunnies," that's what one young child said when asked "What is Easter?" Is this really Easter?
For Christians, Easter is a time when we remember that because of sin Jesus Christ had to die so we could be forgiven and have eternal life. As we celebrate this time, here are some exciting Easter Crafts to help your child learn about the true meaning of Easter.
This post may contain affiliate links. You can read my full affiliate disclosure here.
What is Easter?
Easter is a time of the year when some Christians choose to remember the death of Jesus on the cross. Jesus died and paid the price for our sins. According to Brittanica online, Easter is observed on the first Sunday following the first full moon after the spring equinox (March 21). Easter, therefore, can fall on any Sunday between March 22 and April 25.
During Easter there are church services and there are also traditions such as egg hunts and gift giving. A great way to celebrate Easter for Christian kids is to do crafts that point to the story of Jesus' death found in Matthew 26:17 to Matthew 28:20. You may wonder " What can I make for Easter crafts?" Well look no further we have cross fingerprints, egg craft, color by numbers and resurrection garden as some craft ideas below to get you started on your Easter crafts adventure with your children.
Benefits Of Doing Easter Crafts
Doing crafts can be beneficial. Some benefits to be derived from crafts as per Scholastic include:
Develops fine motor skills
Builds critical thinking skills
Helps with counting and pattern recognition
Helps with learning shapes and colors
Encourages creativity
Builds patience
By doing Easter crafts we not only get our kids to get these general benefits but we also gain the benefits of teaching them about the great sacrifice Jesus made for us. Let us get crafting!
Easter Crafts-Cross Fingerprints
This is one of our most favorite Easter Crafts. In this Easter Craft you will use your fingerprints to create the cross. In the same way our fingerprints are different the sacrifice that Jesus made was for all irrespective of our differences. The cross is a key feature of the Easter story.
Jesus had to bring a cross and was crucified on the cross as he bore the sins of the whole world. As 1 Corinthians 1: 18 says, "For the message of the cross is foolishness to those who are perishing, but to us who are being saved it is the power of God." Share with your child the power of God using the meaning of the cross with this cross fingerprints Easter craft from Jodi at meaningfulmama.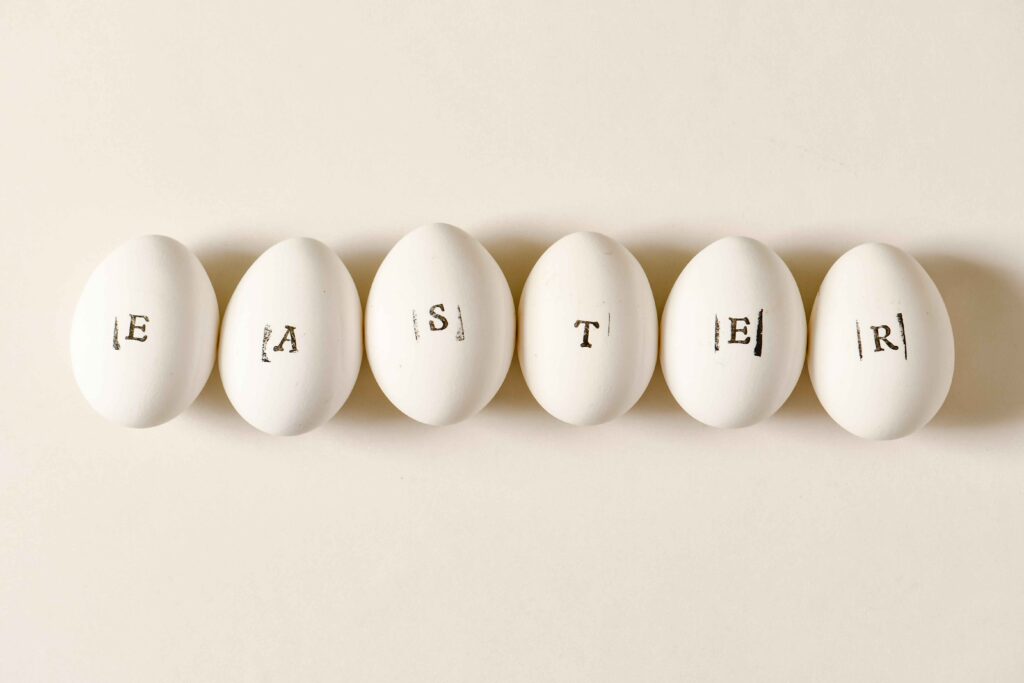 Easter Egg Craft
Easter crafts typically involve eggs. We have been told that eggs at Easter have been linked to pagan origins. The Christian community however have used eggs as a celebration of new life as represented by Jesus' resurrection from the tomb.
As you tell kids the Easter story remind them that just as Jesus rose from the dead we are reminded that new life will be given to those who die in Jesus as 1 Thessalonians 4:14 says, "For if we believe that Jesus died and rose again, even so them also which sleep in Jesus will God bring with him." As you make this Easter craft from The Growing Creatives remember that Jesus is alive so we can rest assured that all who die in Christ will also be made alive when Jesus comes again.
Easter Crafts-Color By Number Hat
Revelation 17:14 reminds us that "He is Lord of lords and King of kings." As you celebrate Easter with the kids remind them that despite all the things they see happening around, Jesus is still in charge because he is "King of kings and Lord of lords". In this Easter color by number hat craft your child will color then will create the hat. As you make this Easter craft think of the hats as crowns to remind us of who Jesus really is.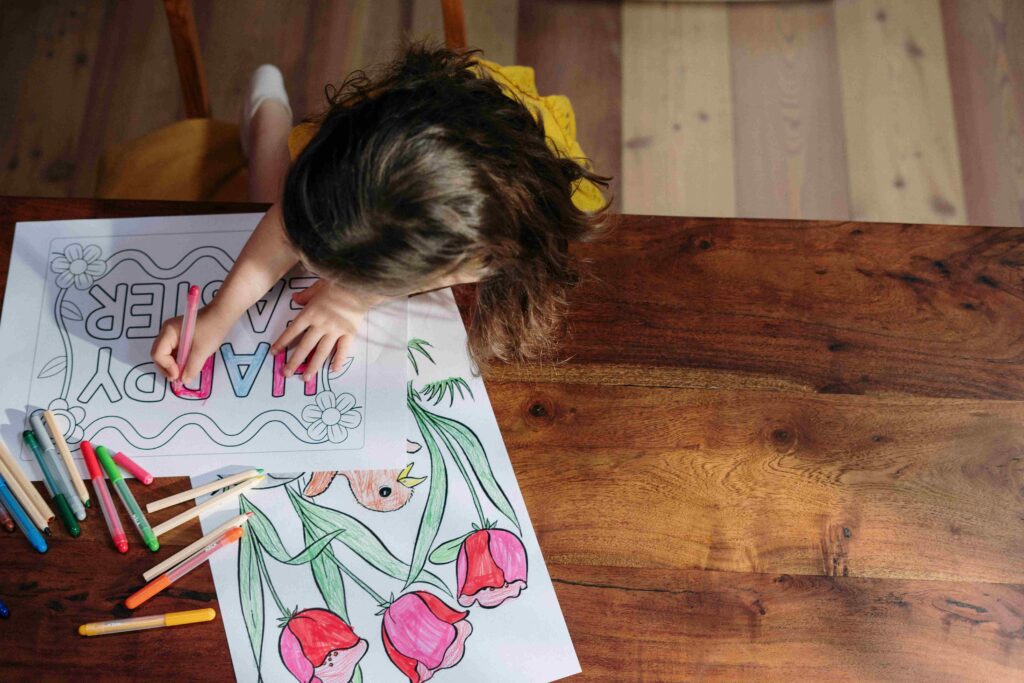 Easter Crafts-Resurrection Garden
"Early on the first day of the week, Mary Magdalene went to the tomb. It was still dark. Mary saw that the large stone had been moved away from the tomb. So Mary ran to Simon Peter and the other follower (the one Jesus loved). Mary said, "They have taken the Lord out of the tomb. We don't know where they have put him."
Can you imagine the experience going to the tomb and not finding Jesus? As you share the story of the resurrection with your child the portion of the empty tomb is an essential component. Jesus was missing because He had risen and this is good news because we know He conquered death and the grave and He is Lord.
Recreate the resurrection garden with Beth at 123Homeschool4me. Enjoy this resurrection garden Easter craft.
The Story Of Easter Craft
The story of Easter can be found in Matthew 26:17 to Matthew 28: 20. If you want an Easter craft that tells the full story of Easter from a biblical view, then Erin at We Little Miracles has a free printable for you to use to create an Easter story wreath. It tells the story in simple language such as "Jesus enters Jerusalem, Jesus prays in Gethsemane" and it has matching pictures and bible verses.
Erin says this wreath was inspired by the Easter Story Wreath she saw at Oriental Trading which she also has a copy of on her website so you can choose to create whichever wreath for Story of Easter craft you prefer.
Easter Crafts-Resurrection Rolls
After all that paper crafting for Easter, everyone should be hungry and ready for a kitchen Easter craft. By making resurrection rolls it will serve as an object lesson and a wonderful treat for kids as they enjoy and learn about the story of Easter. Equipping Godly Women has a detailed outline and free printable about how to tell the story while making these resurrection rolls as an Easter Craft idea.
There is even a shortened version of the Resurrection Rolls story for those small kids whose attention spans are short. Yum Yum yum, we can't wait for you to tell us all about how you and the kids enjoyed the Resurrection Rolls Kitchen Easter craft.
How To Make An Easter Family Special
If you are wanting to make Easter special for your family then you can use crafts to create a family tradition. Family traditions help make holidays extra special. I hope the Easter crafts we showcased in this post are some that you will consider for your family.
Enjoy the crafts and let us know the ones you liked most in the comments below. Happy Easter everyone!