How To Choose A Fun 52 Week Family Bible Reading Plan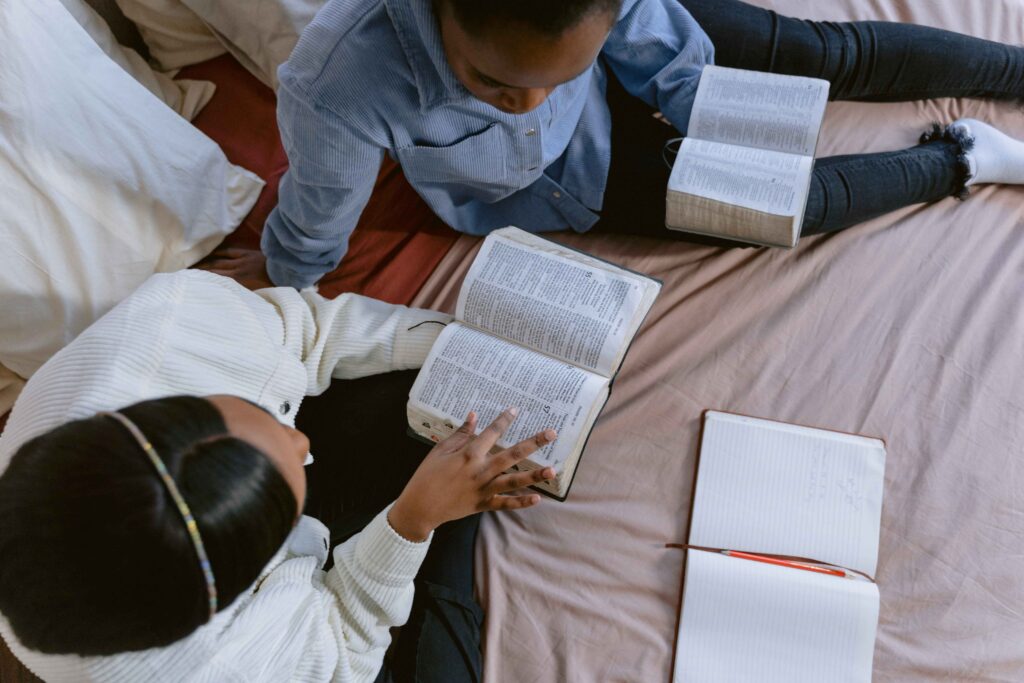 I have tried reading the bible in one year many times. I have found that having a 52 week bible reading plan really helps. As we try to read the bible as adults we need to have our kids reading as well. A Kid-Friendly Bible Reading Plan is a fabulous way to introduce children to the Bible and help them develop a love for reading and learning about the word of God. In this post I will share with you options to help you choose a bible reading plan for the family, adult and kids, so we can all grow in faith.
What Is A Daily Bible Reading Plan?
A bible reading plan is like a road map to achieving the ultimate goal of reading the bible. A daily bible reading plan is essentially a list of bible verses that have to be read daily. Once all these verses are read, then one would have read the entire bible or a portion of the bible the bible reading plan was designed for.
In What Order Should I Read The Bible?
There are many options for choosing the order in which you do your bible reading. Here are some listed below:
Chronological Order: This is when you read the bible in the order in which the events occurred. In most cases this takes 365 days or more to complete.
Books of the Bible Order: This is when you read the bible in the order the books of the bible occur so you start with Genesis and read all the way back to Revelation. In most cases this takes 365 days or more to complete.
Thematic Order: In this order you read various bible passages to connect them as much as is possible to a particular topic. In this method of reading the bible you choose the themes and read them in the order you like.
Character Order: When you read the bible using this format, you study a particular character or place. You choose the characters or places and read them in the order that your like.
What Is A Good Reading Plan For Beginners?
Maybe you have beginner bible readers in your family. Is there a plan for them? Well, yes there is.
Have you ever played the game Jeopardy? Well, here is a Jeopardy question.
It is a bible reading plan from Navigator's Ministry. You have 30 seconds.
Answer, " What is the 5X5X5 bible reading plan."
In case I totally confused you, a great bible reading plan for beginners is one from Navigators ministry known as the 5X5X5 bible reading plan. This bible reading plan uses the concept of 5 minutes per day, 5 days per week at a predetermined time and place using 5 ways to dig deeper.
The five ways to dig deeper that they recommend are to underline or highlight the key concepts, paraphrase the reading, ask yourself questions and find the answers, find the main idea in the reading and figure out how this reading can impact your life. This is a great bible reading plan for beginners but can be used by any individual who wants to read through the New Testament by reading one chapter per day.
What makes this reading plan ideal for beginners is that it focuses on taking small steps-5 minutes each day, to achieve a greater goal-the whole New Testament read in one year. These small steps will build a routine that individuals can build and move to longer passages of scripture and eventually the entire bible reading in one year.
How Do I Know What Is A Good Reading Plan For The Bible For Families?
A good bible reading plan for families is one that is both fun and engaging so the kids can be excited about God's word. Here are some ideas for choosing a good reading plan for your family.
Step 1: Choose a Bible Translation
Find an age-appropriate translation that is easy for everyone including children to understand. The New International Version (NIV) and the International Children's Bible (ICB) are popular ones that most families find easy to use.
Step 2: Create a Goal
Make a target of how much the family will read together each day. Start with small readings and a short time, such as one or two verses per day for five minutes or one bible story per session and gradually increase the amount as the family members becomes more comfortable with the bible reading activity.
Step 3: Make it Fun and Interesting
You can make Bible reading fun and interesting for everyone by incorporating activities and games. For example, create a scavenger hunt where the family members have to find certain words or verses in the Bible or have they have to dramatize a Bible story. We have created a bible game called Team PW which will be great to use in this way. You will find the details of it under our teaching the alphabet using bible games post.
Step 4: Choose Topics or Themes
Choose topics or themes that are significant and interesting to the family. For example, if the family members are interested in animals, choose Bible stories that involve animals such as Noah's Ark or Jonah and the Whale.
Step 5: Use a Devotional Guide or Bible reading journal designed with kids in mind
Use a devotional guide to help everyone in the family understand and apply the Bible to their everyday life. Devotionals have a short reading and a reflection or activity to help the participants engage with the Bible. We have a post on the best devotionals for kids which can get you started. A Bible reading journal would have the verses to be read and a section to answer questions about the reading.
Step 6: Make it habitual
Make reading the Bible a daily habit by setting aside a specific time each day for reading and reflection. For example 15 minutes every day right before breakfast. The family could also keep a journal to record their thoughts and reflections on what they have read.
Tools For Bible Reading
Bible Reading Plan App
Our world is filled with technology and the good news is that bible reading has not been left behind. If your family is "techy" then using a bible reading app may be a good idea for all of you. Some examples are below:
The Youversion app has daily scripture along with devotional, audio or video selections. The beauty about this app is that there is also a kid version of the app. It is free and it introduces children to 41 Bible stories. This bible reading plan app helps kids to understand the overall story of the Bible. Kids can find and select the story they want, then the app reads it aloud to them. There are interactive animations throughout the story which keep children engaged. There are also games in the app which help kids learn important Bible story concepts.
Bible In One Year App is available on Google Play. When you download this app you will receive a Psalm or Proverbs reading, a New Testament reading and an Old Testament reading every day. Nicky Gumbel, vicar of HTB church in London, gives a commentary on each Bible passage which can be read or listened to along with the Bible readings.
The Bible Project App gives you the option to watch, listen and learn the bible in any format you like. It has quiz questions and also allows you to see patterns throughout the bible while you read.
Apple users don't feel left out as the Apple Store also has apps available for download.
Bible Reading Plan Generator
Let me hope that everything we have said so far has been meaningful to you in creating a fun 52 week bible reading plan for your family. You can also use a bible reading plan generator online to help you create readings that your family will enjoy.
Let me know in the comments below which options you chose for your family and we hope you have a great time in God's word.